First I will apologize for the delayed response. Wow! CKU was non stop once I stepped up to the registration table. Here is a picture of the awesome pink bag I received that was packed full of scrap booking item.
This was inside the bag!
Next we received our project for the afternoon.
Approximately 6 famous designers presented several two page layouts in the book. It was great fun AND I finished mine! I'll post a picture tomorrow.
I met three fantastic ladies and was able to visit and dine with them. You think I attend several creative events?! These ladies are the true hardcore scrapers. They travel all over the country attending events. Some of them are retreats that I've never heard of because they are exclusive events that have waiting lists!!! Portia is retired and this is her hobby. She and her husband travel all over for her to attend scrap booking events. I told her I wanted to be her when I retire.
Last but not least, here is a pic of my goodies that I received from CKU when I returned from dinner break. Look at the Stampin' Up packet! Woo hoo! I forgot to mention that we use Stampin Up color pencils and punches with this project.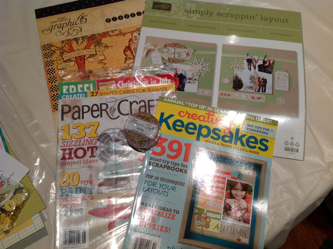 Time to call it a night! Tomorrow I will share the necklace we made tonight.
Angie